Hung out with Jeff J Hunter yesterday. It was a disaster, but in the most perfect way.
He's in town for his son Jesse's birthday. Plan was 4pm dinner yesterday, which is where things hilariously fall apart.
With all the action and cool things he's doing with his family, and a stop at the store to buy swimsuits to jump in our pool, the drive to our house landed him in rush hour traffic.
A one hour drive took two because of rush hour.
When he arrived I threw on the steaks… and got lost in conversation. By the time I went back, they were burned. Like, burned-burned.
"Did the hot dogs make it?"
Ha, not even close. If a thick steak has time to get burnt, the hot dogs disintegrated to ash.
No worries. We got burgers.
Oh, wait. Forgot to thaw those. Frozen brick that looked like an abused pig roast.
But it was totally worth it…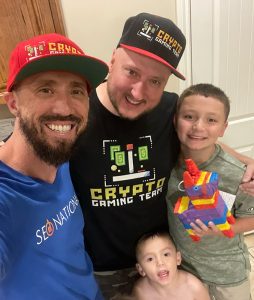 Backup turkey burgers were on point.
We had pizza ready for the kids, good there.
And birthday boy wanted chicken nuggets, so those were dialed in ahead of time. (He even took some in a sandwich bag for the road later.)
Our families went swimming together.
Water balloon fight was a hit. Even let them throw some at our car, which what kid wouldn't love?
Had a piñata ready for Jesse.
My oldest and his even talked gaming. Which was the perfect trifecta when you add to the day that…
 Jesse's bday was yesterday
 Jeff's crypto gaming book launched yesterday
When Jesse was asked if he had a good birthday he said "Yes! Best ever. I'd do it again next year if I could."
New tradition, Jeff? 🤣