Remember my post last week about taking my wife out of town for a date weekend and renting a Lamborghini Huracán off Turo?
Two days after I returned it, dude put in a damage claim.
Damage inside a door jam that I saw the moment he opened it for pickup.
I text the guy 10 seconds after getting the in-app claim notification. Guy never replied.
In retrospect, it all makes sense. When I picked it up, he was like, "I already took a ton of pics so no need."
I logged into the app. Sure enough, he took more pics than usual, so I didn't take any more.
In hindsight, he took pics of everything except what he later claimed I damaged.
Buuut, when taking pics of us in front of where I proposed nearly 20 years ago, I took a random ass pic of the Huracán kick plate while the door was open (attached in this post). After taking it, I'm like, "What a trash pic. Car is dirty, floor is wet from rain. I should just delete it." For some reason I thought, "eh, should keep it for some reason."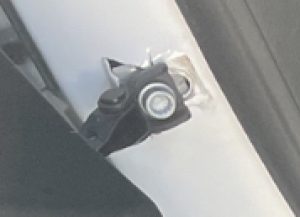 That pic saved my ass.
Showed historical damage and, what I think saved me, rust. Rust doesn't just happen in 24 hours.
Neither does the damage, but I didn't know if they had auto-savvy people looking at these pics, or a random person that knows nothing about mechanics.
A few days later, Turo called and said they closed the case in my favor.
Lesson learned.
Take 10,000 more pics than you think you need.