Today is the day I've been waiting for.  Power is out and I have:
a client Zoom in 30 minutes

a new lead phone call in 90 minutes

a live SEO presentation in two hours
And the power company's automated voicemail drops just left a message that that's about how long the power may be out.  But, about three years ago I invested in my future knowing that a day like this might come. Invested in Tesla Powerwalls to fully power the home.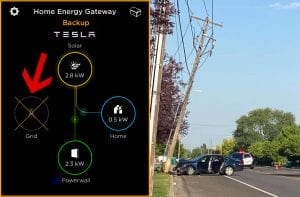 I surely thought the day these Powerwalls would come in clutch would have been due to a winter storm, but the day is here nonetheless.
Some people say that investing in yourself can be "painful," financially or by the amount of time you have to commit to bettering yourself. But the pain of today would have been a lot worse if I missed those two calls and no-showed to 500 people that registered, set aside their valuable time and gifted it to spend with me on an SEO workshop.
I hope the person that wrecked is safe, and I'm not saying buy Powerwalls.  I am saying invest in your future, metaphorically and literally.
Delayed gratification is a beautiful thing and you'll thank yourself later.