One of the coolest things I've seen, unexpectedly, in growing a big business is the culture that starts to take shape on its own.
I've tried hard to have a strong team, maintain good morale, fostering a passion for supporting each other… but this team is next level good.
Manager over our copywriting team took the time to build a full Jeopardy game that the copywriters played for 30 minutes on our team meeting yesterday.
Impresses me:
The foresight she had to organize this.
The passion she had behind the team to find something fun for the group to do together.
The time she spent going behind my back to chat with our CEO to get some good questions about me. 😆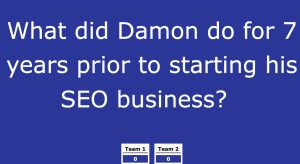 Which do you think it is that I used to sport?
❓man bun
❓frosted tips
❓mullet