Want to hear irony? For 14 years I've owned this marketing agency and have worked with mom and pops to billion dollar companies (literally)… and we do zero marketing of our own.
Sure, we do SEO since that's our thing, but even relatively minimal at that. And I've spent nearly $0 on paid ads, ever, and my team has optimized sites for brands like:
Utah Jazz's retail division, Team Store
Emaar, who built the Burj Khalifa, the world's tallest structure in Dubai
Multiple Inc recognized businesses
Shark Tank featured businesses
… blah, blah, blah.  Amazing businesses as SEO clients, $0 spent to acquire them.
The bigger the contract, the higher chances it came from a referral.
I am completely aware of the economic circumstances going on right now, but SEO National has never grown more. Same thing happened in 2008.
How?
Once you drive results, have a proven track record, AND build trust… people come straight to the source.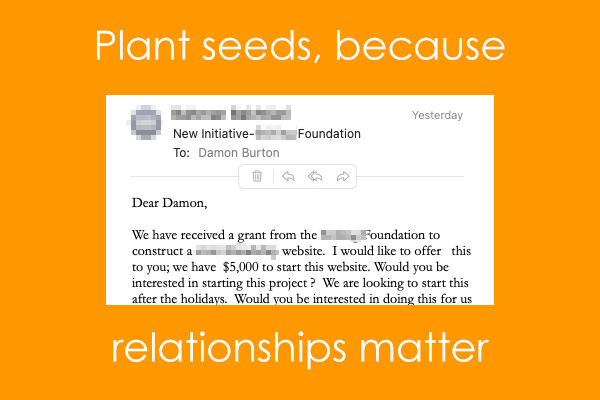 I know EXACTLY where the person that emailed me in this screenshot found out about what I do. Came from a referral. I helped them with some questions for free. F.R.E.E. to establish a relationship.
Few months later, my team did their first website. And yesterday they emailed me about a second.
Zero sales pitch. No negotiation.
Instead, "Damon, can we do business again?" Because the trust is there.
Customers don't want to find a new company every 6 months, wasting ridiculous amounts of money every time they try again. They want the results, but more importantly they want a relationship they believe in for the long-term.