First flight was in 20's… for work. To a tiny dive town in the middle of nowhere… I wasn't even old enough to rent a car after I landed to get to where I needed to be.
This was before Uber and even cell phones were everywhere, so my employer had to scramble to figure something out. Ended up taking a puddle jumper 12 seater plane to another airport, then have someone pick me up and take me the rest of the way.
I was there to teach bank tellers how to use a new banking software. I'd walk from my hotel to across the street, teach for 8 hours, walk back and, since no car, no cell phone, no Uber, in the middle of nowhere… I'd just sit there and repeat the next day.
That was my first experience traveling. Riveting.
My wife never flew either until we met. Took her on her first flight when she was about 23 to the beach. That's when I fell in love with gifting others travel.
There were other moments as a kid that I admired my friends were able to experience, like snowboarding. I remember thinking how cool it was that they went every few weeks each winter. I couldn't wrap my head around the cost of several hundred dollar winter passes. I'd day dream how cool it would be to go just once and I just kind of accepted that wasn't in the cards for me
Not having experiences like that when younger makes me appreciate all I have today.
In just the last 2-3 months I've flown from Utah to San Diego, Mexico, Idaho, back to Mexico, Denver, Los Angeles, Vegas, Vegas again and New York over the last weekend. Florida, Mexico, and half a dozen other places are on the calendar for the rest of the year.
I hit San Diego a lot just to reset. It's only a 90 minute flight so I fly out 6 am, but don't want to be away from my wife and kids so I catch a flight back around 6pm the same day.
Mexico was for a mastermind. Loved the resort so much I took my wife back two weeks later.
Idaho was also for a mastermind.
Vegas was to spend time with an old friend. He lives across the country so we don't get face-to-face time often and just missed a good friend, so flew him in.
NYC was for my son. He loves Home Alone and had been asking to "go where Kevin went" in Home Alone 2.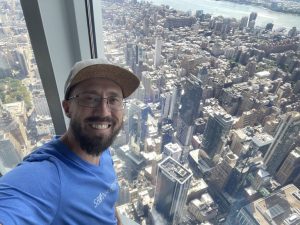 Blew his mind by staying at the Plaza Hotel where Kevin stayed, did the cheese pizza limo tour, Empire State Building, national history museum where Night at the Museum was filmed (another of his favorites). It was also my first time to NYC and was awesome to spend with my family.
And the second Vegas trip a few weeks ago was to gift someone with terminal cancer an experience with their spouse.
This year I've flown nearly three dozen people around the world, many of them strangers that I've never personally met. First flights, first ocean experiences… lots of firsts.
That's the latest chapter of fulfillment in life is gifting others experiences. Seeing other people happy makes me happy.
As a kid, when you see friends experiencing all these things that you know you won't be able to do can be confusing. But it's one of the best things now as an adult. Instead of looking back on what you didn't experience, now you can look forward to a blank canvas of all the cool possibilities.