25% increase in organic traffic in only 3 weeks… a great example of what MORE you can do NOT being on Wix, Weebly, SquareSpace, etc.
Those builders are great if all you need is a quick website. But because they are fully hosted, you only have access to optimize/edit/update whatever they give you access to.  The reason WordPress is so popular is because you "own" the site and have access to edit 100% of it, the code, files, whatever. This extra 5-10% of access can make all the difference in the world.
This client was on SquareSpace. We recreated their design and reverse engineered it into WordPress.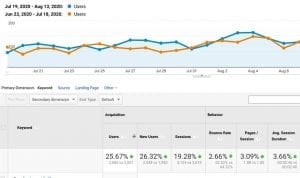 We changed the design ZERO.  We kept the site design exactly the same, but improved the page speed and optimized how efficiently it loaded.  The results were an increase across the board.
improved form submission conversions
25% increase in organic (FREE) traffic
increased page views per visitor
improved bounce rate