One of the main reasons I see businesses suck at SEO… is because they're focusing too much on SEO.
When interviewed for an article on Entrepreneur, I was asked about the connection between SEO and web design. My answer was simple.
"Google puts themselves in the shoes of a regular internet user." You.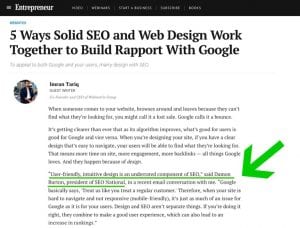 Google doesn't want to feel that your SEO efforts are manipulative just to get on the good side of search engines. Instead, Google wants you to treat them as you would treat any user, and in return for good value you get good rankings.
Do you like a slow website? No? Then neither does Google.
Do you like a horrible design? No? Then neither does Google.
No matter how great your website copy is or how fast your website speed is, your potential customer is more likely to hit that 🔴 button and abandon your website when they have a hard time figuring out what action is next on your website.
SEO cannot survive on SEO alone. It needs to be complemented with intuitive design.  Person-focused web design, especially mobile-friendly design, affects your Google rankings.  That's the tried and tested trend throughout 2019, and it's going continue in years to come. I'm so confident in that trend that I gave this same response to such a respectable media outlet as Entrepreneur.
Speaking of responses, it's humbling that someone notices my work and considers me to contribute on such a topic.  When I started on my SEO journey 13 years ago, I never imagined being featured in Entrepreneur or accepted as a contributor to Forbes. I just enjoyed the creative processes behind SEO and how it helped businesses grow.
Now, it's great to enjoy all of the above both. ❤️