Going to bed the other night, my son went in the garage to get something he left in the car and he saw this oversized poster board sign on the garage rails.
"Have a fantastic workout, hottie. I will be dreaming of you. XOXO"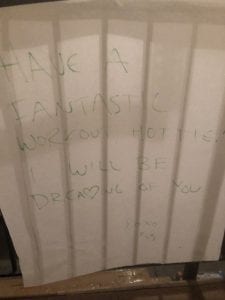 He asked what the sign was for.  I told him I wrote it to support mom to have a good day.
He asked, "So she sees it in the morning?"
I said "Yeah, so she has a good workout."
He replied, "I like how you make funny jokes… and then turn it into a compliment."
Heart explosion ❤️ 💥
I do take my responsibility and art of balancing dad jokes with affection verrrrry seriously. My kids are not the only recipients. Making my wife cringe with dad-level jokes is a serious past-time of mine. Him being old enough to recognize and appreciate my approach to fun love was awesome.
As a dad, the best thing that I can do beyond loving them is to show them that I love their mother.  As a husband, the best thing that I can do beyond loving her is to show her that I love our kids.