That, in the short term, words I wrote are helping people.  In the long-run, words I wrote will live on forever.
It's cool looking at these sales statistics. Not for revenue. You don't make shit selling a book. But it's cool knowing that I'm making an impact on others.  And shout out to whomever bought 33 copies.
Writing Outrank was such a great experience. The goal was to share SEO and digital marketing advice, but while writing it I quickly realized I didn't want it to be a boring technical guide. So I weaved personal stories into it about how I outranked a billion dollar company on Google.
I also wrote about ranking a site so well on search engines that I received a cease and desist letter from a competing website's lawyer, a former FTC attorney.
Then I wrote a whole chapter titled "Be Human," that is such a simple guide to the value in plating seeds and building relationships with others. Not everyone can say they built a successful agency without spending a dollar on advertising. I did, and I did it by caring about others.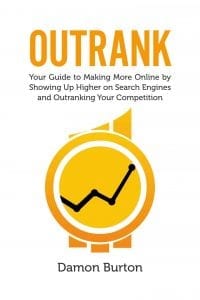 (Outrank is available for free as a PDF, softback on Amazon, or on Audible.