My daughter learned at her grandpa's funeral that he was a Native American.
"Wait? So I'm part Indian, dad?"
Now she walks around singing "I'm an Indian princess!"
So much to be proud of this week. My wife held strong and took charge writing her dad's obituary, gathering pictures for his viewing, and organizing the services.
Honor Guard did a military service, firing shots and presenting the spent shells and flag to my wife.
Native Americans did drum ceremonies and presented my wife with sacred eagle feathers.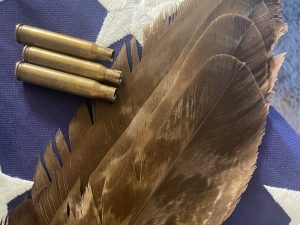 Service was scheduled for 2-3 hours, went for five. Proud of how well-behaved the kids were for so long.
My 11 year old even got up and spoke of when he went fishing with grandpa when he was little. As if it were meant to be, as he was describing that day the pics came on screen behind him, then comically said "I'm right there." 👉🏻 The whole place busted up laughing.
My wife closed it out by taking the podium and brought the room to tears.
Proud of this little tribe.