Except ours.
I remember seeing other docks down the lake as we kayaked by them with signs saying "private dock, keep off."
I get it, but I took a different route.
Dropped part of our dock in the water this weekend and if you see this homemade dock made of brown Trex and blue barrels, climb aboard and leave a story behind.
Under this rock there's a waterproof notepad for you inside a bag with a pen, pencils, and a pencil sharpener.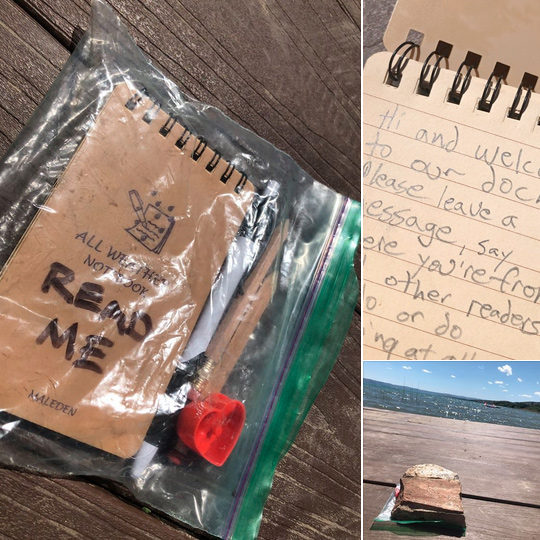 Tell me and other future readers where you're from, if you're near or far. If it's during the day or you're laying down watching the stars.
I'm sure the first time or two I see someone climbing on MY dock during the day, sure, I might have a brief moment where I want to scream "Get off my lawn!" But reading these yet-to-be-seen stories left behind from "trespasser" during the infinitely higher quantity of days that I'm not at that property will change that quickly.
People from other states.
People from other countries
Couples boating together.
Someone lost in their own mind, kayaking the lake alone at night and just needing a spot to relax.
I have no idea what I'll return to on my next cabin visit, but I'm hoping my trip includes some stories from strangers left on my dock.