Few weeks ago I had dinner with Bart Miller and his wife, Sunny. Met these friends through a mastermind and we talked about mindset, health, charity, all sorts of things.
Of all the things we talked about, know what stuck out the most to my wife?
"Look good naked."
Bart mentioned that is his personal driver for health. He always wants to look good naked. And that resonated with my wife as a simple catchphrase to motivate her to pursue fitness and confidence.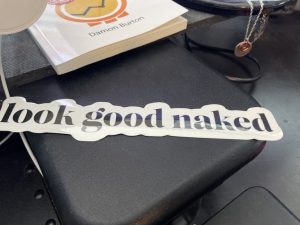 Her and I are so different in thought processes, and I love anything that clicks for her. So I ordered these stickers to support her in her own little way.