As much as technology pays my bills, I try to avoid it when I can and find some normalcy in the real world.  But there's one part of the internet that's super addictive to me. Sounds corny, but it's simply helping others, because it feels good.
The guy that sent this message lives in England, and we've never met.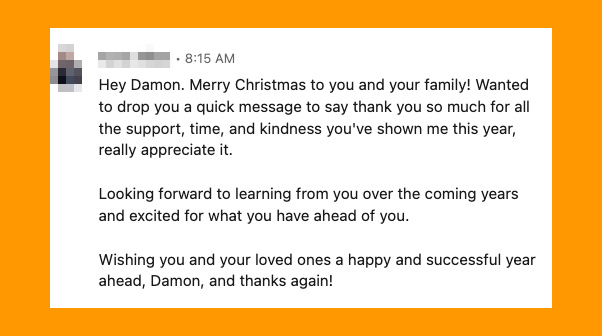 We've exchanged messages on social after he reached out for some internet marketing advice. As the questions evolved, we talked a bit of personal life, too. That's it. No phone calls. No Zoom. Just messages.
If you've followed me for any amount of time, you've likely seen me post messages like this every other week. However, so many more I haven't shared, as kind words like this are sent nearly daily.
I don't have a large platform. I don't have a gazillion followers. I'm not an influencer.
Your ability to positively impact the world is limited only by your willingness to try.