Tomorrow I'm helping a teenage millionaire.
He's coming over for dinner.
As he's graduating high school this year, he asked for an opinion a few months ago.
He wanted to know more about college. Was it worth it? What are the pros and cons?
I offered to go to lunch so we could go deeper than that. To talk about the big picture. About life.
At lunch we covered:
✅ college
✅ career opportunities
✅ family
✅ 401k's
✅ taxes
✅ early retirement
✅ happiness
We narrowed down some easy opportunities to get his foot in the door with success. That boiled down to him needing a computer.
A month ago today I jokingly sent him a text "from his future," pictured below.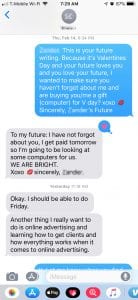 I was checking in on him to make sure that on Valentine's Day he was thinking about his future love. His own life.
He replied that he's already moving forward and that him and his future "ARE BRIGHT."
He's not a millionaire yet. But tomorrow he's bringing his new computer for a crash course over dinner, and his entrepreneurial journey begins.
The most successful people I know are the ones that are also the most willing to help when asked.
Super proud when someone takes the initiative and asks, "can you help?" Especially at a young age.
You can't help those that don't want to be helped. But embrace the opportunity to bring others up around you when they ask and pay forward what you can.
Update
My wife showed me this pic the next day that she caught of me helping Mr. Teenager.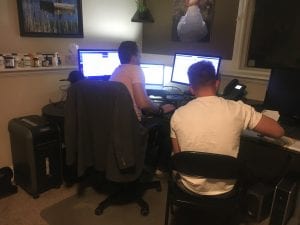 He also sent this kind message after we met up.