Only months ago I had 738 contacts on LinkedIn.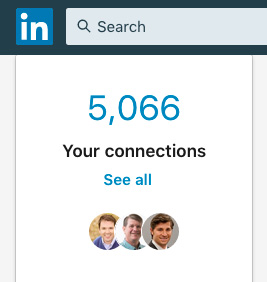 Just cracked 5,066. How'd I do it so fast?
By helping others.
During my outreach to connect, I don't sell.
I help.
I offer a brief background on my expertise, then I offer to share that expertise.
No catch.
I've met so many amazing people along the journey.
A few even in-person for coffee.
All of them kind enough to share their adventures with me.
I also met a retired gentleman named Sam that told his life story.
About how him and his partners wanted to start a new business.
They did some research and decided on a dollar store.
I asked why a dollar store when that wasn't in his background.
Almost as if Sam had a crystal ball, his answer was because one of the largest dollar store chains had locations everywhere on the east and west coasts…
But none in the Rocky Mountains.
So he built a dollar store chain and a few years later it sold to that national chain because they recognized the value in filling that geographical gap.
At the end of the day, it'd be a lie to say that most everyone on LinkedIn isn't into networking for some selfish reasons.
But what may have started months ago as a goal to increase business has long been overshadowed now by the rewards I get by meeting new people and hearing their stories.