Want financial security? Uh, duh?
Two of these five dramatically increased my company revenue years ago.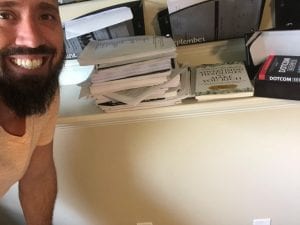 Two of five what?
Books 📚
Willing to bet you could learn a thing or two from them, too.
I hate it when people generically say "Read book XYZ. It's good."
But WHY is it a good book?
So I'm going to not only list 5 awesome books, but tell you exactly how they can help you.
📘Book 1 – Expert Secrets by Russell Brunson
📖 Book 2 – Blue Ocean Strategy by W. Chan Kim
📕Book 3 – Dotcom Secrets by Russell Brunson
Yes, I intentionally put Russell's two books not in order.
📒Book 4 – E-Myth Revisited by Michael Gerber
📙Book 5 – The 4-Hour Workweek by Tim Ferriss
In that order, and here is why…
Expert Secrets will help you figure out what you are passionate about and how to monetize it. Or, if you already know what you would like to do then it will help you with an immediate road map of what to do next.
Most guru books say something like "build an audience," but they don't explain how to proceed. Russell's book gives you step-by-step instructions.
Once you've narrowed down what you want to proceed with, Blue Ocean Strategy will help you understand if it's worth proceeding. Is there even a market for your idea? Who cares if you like it. Will other people like it?
If you're still eager to pursue your idea after going through the first two books, then Dotcom Secrets will help you with taking the next step with your idea online. Online is the easiest path to a mass market.
As you start to build your business, E-Myth Revisited will help you understand the importance of building procedures and documenting your processes.
If you will do anything more than once and you want to do it right every time, build a process around it.
✅ You'll do that process better.
✅ You'll do it faster.
✅ You'll be scalable.
✅ You'll get better results.
When you document your processes, your business becomes dependent on those processes and not an individual employee's skillsets. Then you can hire anyone and plug them in. Makes hiring more flexible, too, because then you can hire based on your terms instead of desperation for the right talent.
I recommend The 4-Hour Workweek last, because it teaches you how to save time. But you shouldn't try to gracefully cut corners until you know what your processes are.
Comments